News Archive
August 3rd-August 22nd 2005

Glass Station Release
Posted by Lakie on Monday, August 22 2005 3:07PM
Hi,

I've just released the Glass Station.

Screenshot



Head over to my site for more information and downloads.
Link

Another HQ!
Posted by Born_Acorn on Saturday, August 20 2005 5:27PM
I jsut released another of my upcoming bunch of HQ's, drawn and made to go in the towns and cities. It works in TTD and OTTD too! How nifty.





As usual, you can go and grab it in the downloads section, and expect the other two HQ's to be released soon, as well as a statue replacement. I feel It could be made into something more useful, like a Company Office or something. Suggestions anyone?


RSS Feed
Posted by Born_Acorn on Saturday, August 20 2005 2:56PM
We now have a Live RSS feed. Click on the

icon above or at the bottom if you are in FireFox, or use an RSS feeder to watch! RSS is a format for syndicating news and the content of news-like sites. It puts it all into an XML file which can be read by your RSS reader. Thunderbird or Firefox can do this, as well as specialised software.

2x2 madness at TTT!
Posted by Born_Acorn on Saturday, August 20 2005 9:39AM
Today I have released two new buildings. One is a new Multi-Storey car park! The other is a graphics replacement for the third stage of Company Headquarters!





Get them in the downloads section!


Turbo Train
Posted by Lakie on Friday, August 19 2005 9:05AM
Well, after a few re-draws from Born_Acorn, it's finally ready for a release.

Features
> Replaces Turbo Train in the Sub Topical ONLY
> Both Heads carry 10 Mail each (Non-Refittable)

Screenshot




Known Issues
> Clipping in the buy menu

Downloads
> Windows
> DOS (Untested)

All Roads lead to Rome - New Roadset 0.1
Posted by Born_Acorn on Wednesday, August 17 2005 2:56PM
Greetings Tycooners. You may have been wondering what I have been working on the past few months since the release of the New Airport. Well Here it is : Newroadset. Alpha version 0.1. Im aware of most of the alignment problems. When finished it will have new bridge surfaces and everything.


New Road Set (Windows Only) 0.1

General Site Updates
Posted by Born_Acorn on Tuesday, August 16 2005 12:53PM
I will be fully completing the Website (TTD, downloads) ove rthe next few days. Today I (finally) made the Game download page link to the already uploaded TTD Games, and did some Other projects updates. Soon I will have fully completed the TTD sections.

If you want to help (compile TTD information, write the HTML), email me at the usual adress.

New Savegame System
Posted by Born_Acorn on Saturday, August 13 2005 8:48AM
Now all the savegames are kept in PAFileDB, as nifty php script from phparena.net

Vehicles Lists.
Posted by Born_Acorn on Sunday, August 7 2005 9:54AM
I now have new vehicle list pages up and still in development. I also have a new file system planned for storing my savegames. I hope you can bear with me while I finish it up, and it should be a lot better when finished. Grab the Vehicle list here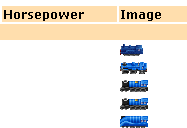 Design Tweaks
Posted by Born_Acorn on Wednesday, August 3 2005 7:18PM
I will be making small tweaks to the design of the site, namely the side menu. If you have any problems, then Email me
---

|

|

|

---




Previous | Join | Random | List | Next | Next five
---
You are visitor
since June 2005
Hosted by:

All material Copyright © Christopher Jones 2003-2009 or owned by their respective authors where mentioned. Thanks to Jonathon Pilmoor for the site name, and Lakie, Dalestan and petern for coding various things.
Privacy Policy